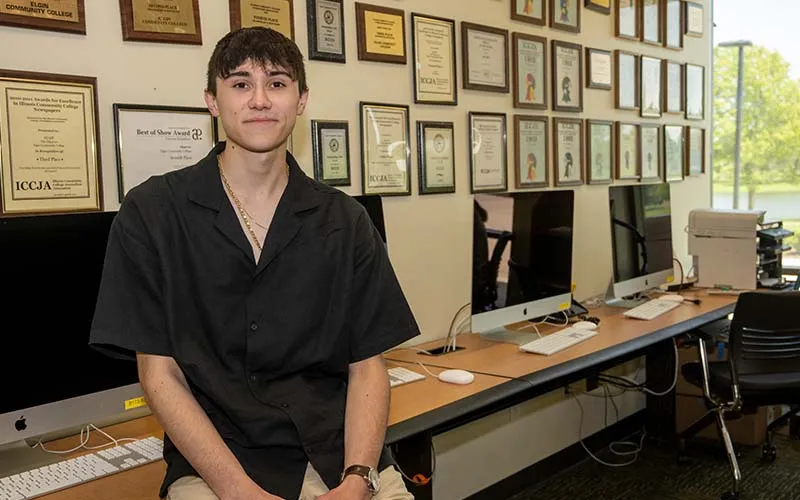 ---
It wasn't my first choice to attend ECC, but the COVID-19 pandemic caused a rupture in my academic momentum during my junior and senior years of high school. I was set on majoring in photojournalism but couldn't decide on a school, and I wasn't ready to leave home.
After deciding that I would stay home and enroll at ECC, I decided that I would make the absolute most out of the two-year associate degree I was pursuing - A goal I definitely achieved. The most gratifying experience at ECC was my time as a photographer, reporter, and editor with the Observer. I'll never forget my introduction to advisor, professor, and friend Nick Obradovich and photography mentor Lance Lagoni at the start of my college journalism career.
Receiving my first news assignment kicked off four rewarding semesters of collaboration and hard work with the Observer staff. We've traveled to Eastern Illinois University, Washington DC, and San Francisco to learn from others and improve our publication. Serving as Editor-in-Chief over the past three semesters has been one of the greatest honors of my journalism career. I'm so proud of my fellow staff's hard work, and I look forward to seeing what they do in the future.
I will remain thankful to God and my parents for leading me to ECC, as I've met many wonderful people whom I've shared amazing experiences with. I'd like to extend my gratitude to my family, friends, professors, and everyone else who has been a part of this fruitful journey. I look forward to using my knowledge from my ECC experience in the next phases of my life at Western Kentucky University and beyond.
Dominic Di Palermo, St. Charles
Associate in Arts
Visit the ECC Graduate Essays webpage for more graduate stories.