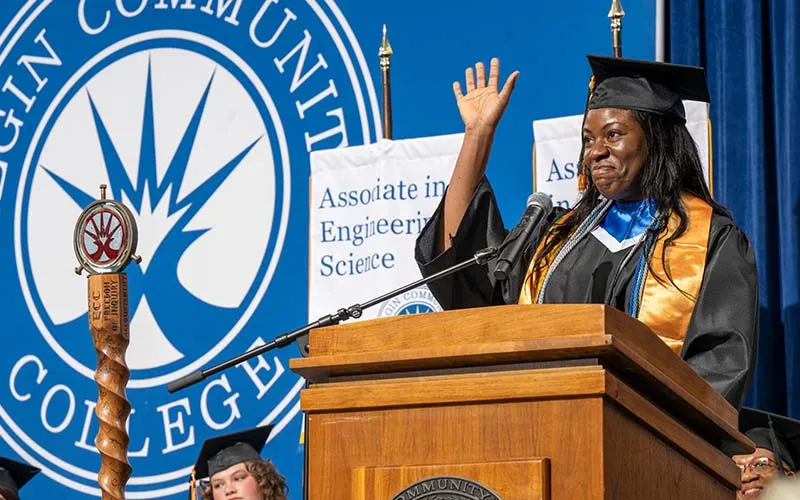 ---
I am honored and elated to be a speaker at this ceremony, and I would like to recognize the presence of the college president, board of trustees, deans, families, and well-wishers of graduates. To my fellow graduates of 2023, I say congratulations; we did it! Thank you, Dean Long, for the opportunity to speak. I am a foreign student from Ibadan, Nigeria, and I would never have imagined myself giving a commencement speech in a reputable college in the United States of America.
Can the parents and supporters of the graduates please stand? Graduates, look at your supporters. These people have made sacrifices for you to be at this point in your life. Nothing compares to the pride and joy on their faces today. I would like to thank you all for everything you have done and still do to help us make headway in life. (You may have your seats now) I wish my family were here to enjoy this moment with me, but they are live-streaming this event from Nigeria. (Wave at family through the camera).
I asked a couple of my mates what I should talk about today, and I can tell you that the stories of the graduates here today show that the American Dream is not one size fits all. Amongst us are first-generation college students, children of immigrants, and international students. One day I asked my dad for something, and he said: "The greatest gift I can ever give you is the best education." Growing up in Nigeria, my father instilled in me the value of higher education. However, the opportunities to attain higher education in Nigeria are limited. I remember years ago when I was rejected from nursing school in Nigeria because of my age. This constant series of rejections made me feel stuck. But, two years ago, I made a brave decision to chase my American Dream. I knew that getting an education here in the United States was the key to my future and achieving my career goals.
But nothing prepared me for the struggles in chasing my American Dream. It got harder as time passed. I felt that I was losing part of my culture and still yet to acclimate to a new one. I experienced a lot of culture shocks: the first one was seeing American flags in front of people's homes. One that still shocks me is Daylight savings. In my first year, I felt alone most of the time. We were just coming back from the lockdown, and people were not willing to start up conversations. I can't blame them. However, this made me feel homesick most of the time, and the fast-paced life here was not helping. I was going through all these while trying to maintain full-time and excellent grades. I knew I could not continue like that, so I decided to get involved on campus. I became a student worker, joined clubs, and made friends along the way.
These friends unintentionally cured my homesickness and have also shaped my perspectives on life. Friends like Maria, Leonardo, Destiny, and Victoria are the ones you never forget in a hurry. I would also like to recognize some others who helped me along the way: the core team of the Black Student Achievers, the Black History Month Committee, the entire staff of the Student Services department, especially the amazing women at the First Stop, compassionate and supportive professors like Frederick Vogt, Ginger Bohlen, Jason Kane, and many more. Thank you all for the impact you have made on my academic and professional life. Two years at Elgin Community College have taught me to always ask for help, something I found difficult to do. And also to embrace failure as only a delayed success. Another important thing I learned at ECC was the sense of community.
All of us graduates tried to get the best out of our college days by getting involved on campus, studying through the night to get that paper done, having financial struggles, experiencing burnout, and even experiencing impostor syndrome. Imposter syndrome, we experience this phenomenon when we doubt our achievements and our ability to exert change despite our experience and education. I remember when I was elected as secretary of the Black Student Achievers; I felt unequal to the task at hand. However, I was able to learn from my shortcomings, and that position has helped me experience personal growth.
I put it to you today that if you continue to put yourself out there, you will make progress. No matter how small, you won't be where you started yesterday. Appreciate your baby steps. In a society that sees baby steps as no steps at all, I encourage you to straighten your back, adjust your crown, and continue to lead. I charge you to venture into the unknown with courage and curiosity as I did two years ago.
Today, my fellow graduates, we have surmounted great obstacles and will receive our diplomas for a job well done, but keep in mind the journey has only begun. Most of us plan to transfer, and I encourage you to carry on that burning zeal that ECC has lit in you. Today, America is in great need of change, and as educated people, we are called to make that change, to make a difference. In the words of Nelson Mandela, "Education is the most powerful weapon which you can use to change the world."
So, I encourage you to let the world know who you are by putting your education to use. Do not let the world put you into a box. Do not let yourself fit into bad stereotypes. Continue to break glass ceilings everywhere you go. And in the course of making a difference, if one door closes, be assured that a window will open. Be assertive and take up the space you've earned.
I will miss the times I spent here at Elgin Community College. Class of 2023, today is goodbye, but the world awaits us. I will be moving on to Elmhurst University to study Nursing with a minor in Psychology. For the rest of you, again, Congratulations, thank you, and good luck!
Chioma Echefu, Ibadan, Nigeria
Associate in Science