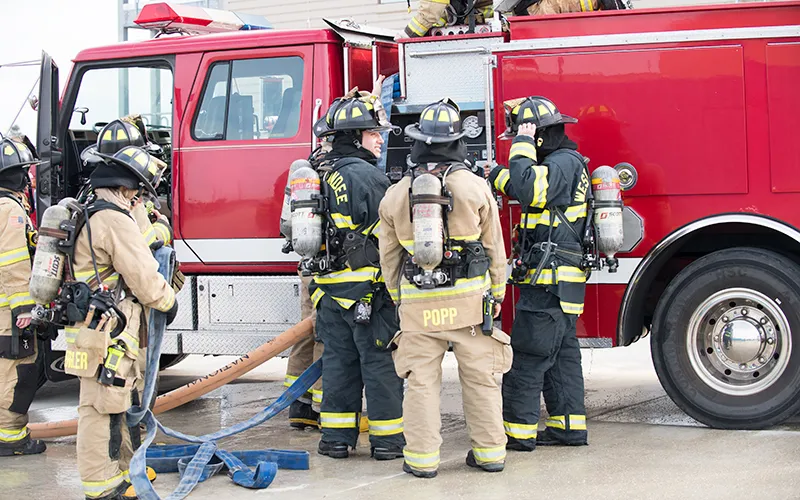 ---
Please Note: Due to expected weather conditions, the Touch-A-Truck portion of the open house has been canceled. The program information session at 9 am will proceed as scheduled.
The Elgin Community College Center for Emergency Services is hosting a community open house on Saturday, October 14, at 815 E. Plank Rd., Burlington, Ill.
"Our open house allows the community to come and see what ECC's Center for Emergency Services is all about," said Ronald S. Two Bulls, senior director of academic programming and public safety training. "We are excited to showcase our dedicated staff, successful programs, state-of-the-art facilities, and our partner Fire and Police Departments."
The open house begins with an informational session from 9 to 10 am for those interested in learning more about a career as a first responder. The session will showcase first-responder programs at ECC, and advisors will be on hand to help those interested explore degrees in emergency services and careers in public safety, along with a tour of the facilities. Attendees for this session must RSVP at elgin.edu/ces to ensure enough seats and materials are available.
Then, families are invited to touch fire trucks, police cruisers, ambulances, and more from 10 am to 2 pm. Kids can climb into vehicles, watch demonstrations of fire, police, and paramedic equipment, and meet local emergency service members. At noon, the LifeNet Helicopter will land and be open for tours, weather permitting.
For more information on ECC's Center for Emergency Services, visit elgin.edu/ces.