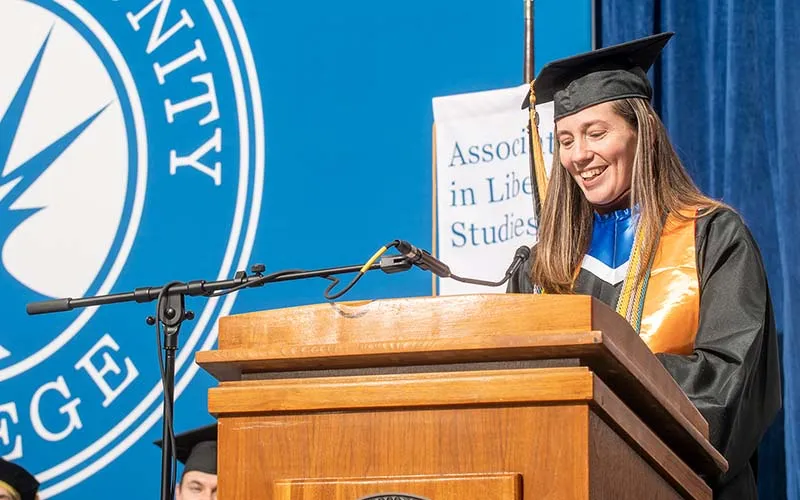 ---
It's been a long road, some of us longer than others. And if you are wondering, I am one of the others! So, are you ready to go on my journey? You don't have much of a choice, but I promise to make this as quick and painless as possible.
First stop: I started my educational journey at ECC about 20 years ago. After high school, I had no direction besides the fact that I wanted to help people. Now, this is my second, and ok, let's be honest, third time around at ECC. I am so proud that I have come full circle!
There is a reason I am on my third try: My children get to see their mom graduate! I had an overwhelming sense of joy the other day when I heard my children say, "when I go to college." I don't recall ever saying that when I was younger. Now just a few semesters later, I am graduating alongside you all.
Throughout my time at ECC, I found my path through the human services program, and it was the best decision. I went from dropping out to being accepted to the Phi Theta Kappa Honor Society. I feel like this time around has been the perfect storm. I have had the right people, time, and amazing support from family, friends, and everyone here at ECC.
My time here has been life-changing, to say the least. I walked in here wearing one hat as a student and am walking out as a scholar, researcher, leader, co-worker, and so much more.
ECC faculty and staff have always gone above and beyond, and it truly shows day-to-day. Dr. Liddy Hope has helped me achieve many of these hats. She voluntold me (as she likes to call it) to be the president of the Human Services Club, which was the start of a busy schedule. She asked me if I wanted to do a research project, which was well out of my comfort zone, but I said yes. These are just a few things that have propelled me to be more confident in my abilities. I just want to say thank you, Dr. Hope, for being an outstanding mentor and professor.
When I got the call from Dr. Joe Rosenfeld, I will not lie; once I heard job, I thought no, thank you. I was not looking to add more work to my plate as I was already taking five classes, but once he explained it's a program to teach students to become peer support specialists, I could not pass on helping people. I mean, that is what I am going to school for. I feel you never leave a job, so, shameless plug, if you know anybody that would like information, Ryan, the new student support specialist's office is in B276.
I don't have enough time to thank you all individually, but many of you here today have made a significant impact on my journey. To name a few: Student Life, Disability Services, TRiO, Purses with Purpose, and all the fantastic lectures and events.
Through these opportunities, I was able to work with so many fantastic people like Dr. Kristina Garcia, who have inspired me to pursue higher education like her and many other talented people at this school.
I also want to thank Dr. Mia Hardy for accepting me into the undergraduate research program (CURIC program). These are just a few of the opportunities ECC has afforded that have changed my future.
Our paths are not linear. It's about progress, not perfection; I feel many of our stories represent that. It's not just the opportunities but the lessons as well that have opened my eyes.
I honestly thought I knew a lot about the inequities in the world because I lived around it daily. I come from a very blended family. I lived right across the street in low-income housing, so I thought I had an understanding. ECC helped me realize that I had a lot to learn and rekindled my fighting spirit.
Reminding us that we all need to do our part and that we can make a difference as the next generation of graduates.
I have learned so much in my classes and the extraordinary speaker events like MAGIC. I am here to say I am proud to be a Spartan! This is not just a college but a community, one that I am honored to say we are all a part of.
Are you all ready for the next stop? I know I am.
As I mentioned, life is not a linear journey; we all still have lots to learn. Get out of your comfort zone and take chances on yourself. Where will your path take you? Wherever it takes you, keep an open mind and don't be afraid of change. Be a lifelong learner and fight for progress. There will be bumps in the road, but you have the skills to get through them.
Next stop for me, well, you will have to wait and see! Wherever it takes me, I am ready, and I hope you are too! I am so proud of you all!
Congratulations, class of 2022, we did it!
Tiffany Jensen '22
Associate in Applied Science - Human Service Generalist
Elgin, Ill.