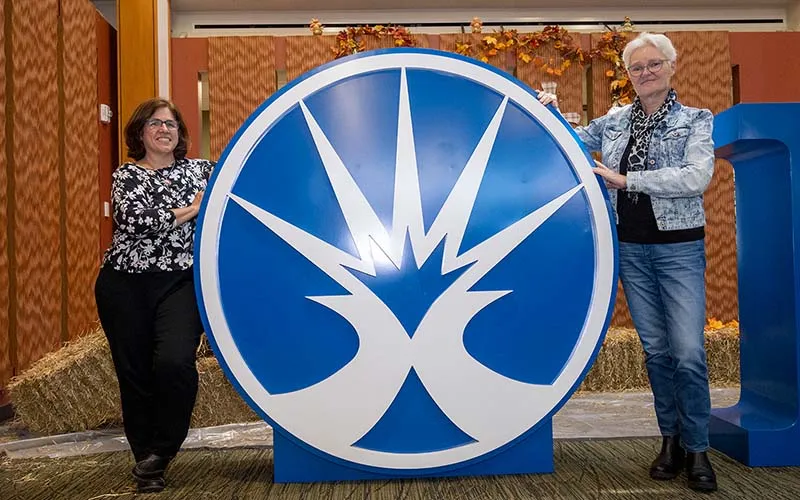 ---
At Elgin Community College, learning is a lifelong process, and recently, two Second Language professors, one from ECC and one from the Netherlands, spent two weeks together in the spirit of continuous improvement.
Renee Baltus, professor of Dutch as a Second Language (DSL) at Aventus college for secondary vocational education in the Netherlands, came to visit ECC's Colleen Stribling, EdD, professor of English as a Second Language (ESL). This spring, Stribling will have the opportunity to travel to the Netherlands and visit Baltus at Aventus college. The two were brought together via Elgin Community College's Center for Global Engagement and The Illinois Consortium for International Studies and Programs (ICISP).
"I saw this opportunity, and I thought I'd like to do it before I retire," Baltus said. "I wanted to come to speak to other teachers here and learn about systems in the U.S." While this is Baltus' first time in Elgin, it's not her first time in the U.S. After getting her bachelor's degree in Holland, she worked as a camp counselor with a group that traveled across the country. "I met all different kinds of people and have always wanted to come back."
Stribling organized a visiting experience for Baltus that included visiting downtown Chicago for a boat tour, taking her to the top of the Hancock tower, and seeing a musical. At ECC, Baltus received a tour of the entire campus, sat in a roundtable with administrators, and visited 12 different teachers' classrooms. "I'm impressed by the number of student services available here," she said. "We have a lot at my school, but not nearly as much." Catching her eye especially was the Renner Academic Library, onsite childcare through the Early Childhood Lab School, and the ECC Adult Basic Education department.
Even with retirement on the horizon, Baltus is determined to keep learning and improving her teaching craft. Her advice to educators is that "You don't have to travel to a different country to learn something new," she said. "All you have to do is pop into another colleague's classroom and see what they do, how they teach. It allows you to question what can we be doing better as a college and what can I be doing better as a teacher." Stribling echoes that sentiment: "Come to our class to learn about the world because the world is coming into our classrooms."
Baltus looks forward to hosting Stribling at Aventus, providing the same learning experience that Stribling had done for her. With the excitement and opportunity for personal and professional development participating in this program brings them, they continue to seek the same opportunity through their colleagues and unique stories brought directly into their second language classrooms.