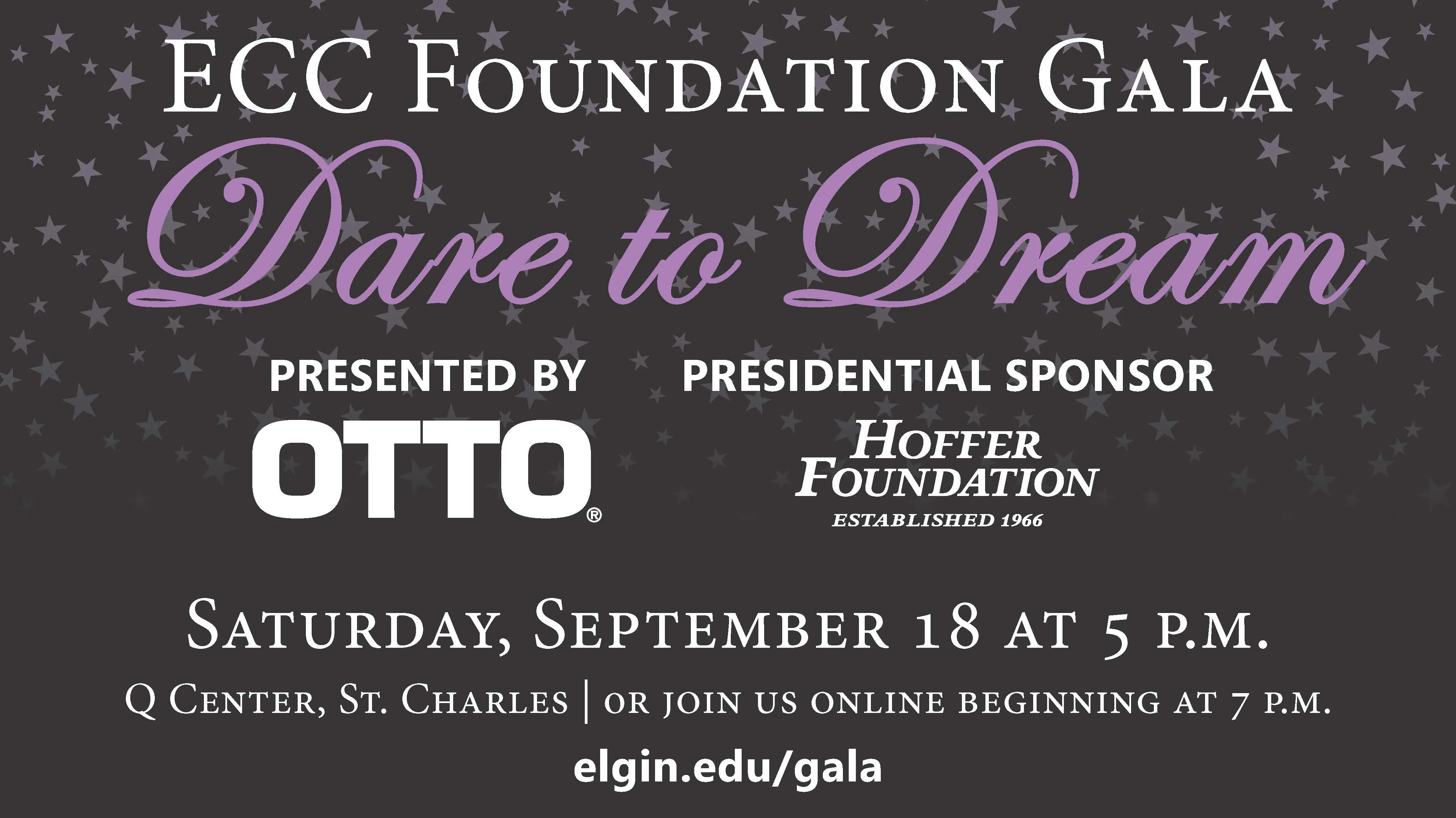 ---
Early-bird ticket pricing for Elgin Community College's Foundation Gala: Dare to Dream is extended to Friday, Sept. 10. Individual tickets are $100 and include dinner, drink tickets, and the program. The gala will be held on Sept. 18 at the Q Center, 1405 North Fifth Avenue, St. Charles, Ill. $10 virtual tickets are also available to participate in the program remotely.
Celebrating the spirit of student achievement, this year's gala features demonstrations and performances presented by ECC students that highlight a variety of programs at ECC like culinary arts, automotive technology, and performing arts.
Special guest Dean Follmann, Ph.D., '77, and 2019 Distinguished Alumni of Year recipient will provide the keynote address. Dr. Follmann is chief of the Biostatistics Research Branch at the National Institute of Allergy and Infectious Diseases at the National Institute of Health. ECC President Dr. David Sam will also share remarks about the state of the college.
The gala also honors recipients of the 2021 ECC Foundation Awards. The 2021 honorees are as follows:
ECC Distinguished Alumni of the Year Award: Darryl Tyndorf, Ph.D., '99, lead economist and data science for Equifax. This award recognizes the success of a graduate who has gone on to have outstanding success and distinction in their chosen field, displayed humanitarian service, and continued to support the mission of community colleges.
ECC Esteemed Recent Alumni Award: Adrian Bautista, '17, managing partner, inside sales for small and medium businesses at Verizon. This award category is new for 2021 and features a rising star that recently graduated from ECC.
ECC Friend of Education Award: Motorola Solutions and the Motorola Solutions Foundation. The Elgin Community College Board of Trustees bestows this award to an individual, a business, an institution, or a corporation within District 509 that has greatly advanced the college in terms of growth, educational quality, workforce development, or other key areas.
Exceptional Friend of the ECC Foundation Award: The Hoffer Foundation. This award recognizes an individual, a business, or an organization that exemplifies the spirit of giving that propels the Foundation and the college toward a promising tomorrow.
ECC President's Lasting Impact Award recognizing recipients Karen Fox, Cherie Murphy, Carolyn F. O'Neal, Ed.D., Ray Rogina, John Steffen, and Pastor and Mrs. Willie Tate. ECC President David Sam, Ph.D., J.D., LL.M., established this award in 2010 to recognize outstanding leadership and service by a District 509 citizen whose actions, over a long period, have positively impacted the community as a whole and strengthened the mission and shared values of Elgin Community College, in particular.
Additionally, a special President's Lasting Impact Award will be presented to the healthcare workers in Community College District 509, recognizing their exemplary response to the COVID-19 pandemic in risking their own lives to serve our area's residents. Leaders of the following healthcare institutions will represent the awardees: Amita Health St. Joseph Hospital, Advocate Sherman Hospital, Amita Health St. Alexius Medical Center, Elgin Mental Health Center, and Greater Family Health – formally known as Greater Elgin Family Care Center.
Sponsors:
Presenting Sponsor: OTTO

Presidential Sponsor: Hoffer Foundation

Premiere sponsors: IHC Construction Companies, LLC; Lundstrom Insurance; Middleby; and Shales McNutt Construction.
Resilience Sponsors: Bear Family Restaurants, Mark and Robin Seigle
Empowerment Sponsors: Charles H. Burnidge, DLA Architects, Ltd., KCT Credit Union, State Senator Cristina Castro, and Sikich, LLP.
Achievement Sponsors: ECC Faculty Association, Elgin Trades Council, Lauderdale Electric, Law Offices of Melissa Barbosa-Guzman, Speer Financial, and State Representative Anna Moeller.

Milestone Sponsors: Kane County Sheriff's Office and OrthoIllinois.
Proceeds from the gala directly fund the Resources for Excellence Fund, supporting the areas of greatest need, including emergency assistance for students and mini-grants for innovative projects. Event co-chairs for the 2021 Gala are Robin Seigle, secretary of the ECC Foundation Board, and Linda Hefferin, Ed.D., ECC retiree, and professor emerita.
For more information, contact the ECC Foundation at 847-214-7377 or foundation@elgin.edu, or visit elgin.edu/gala.