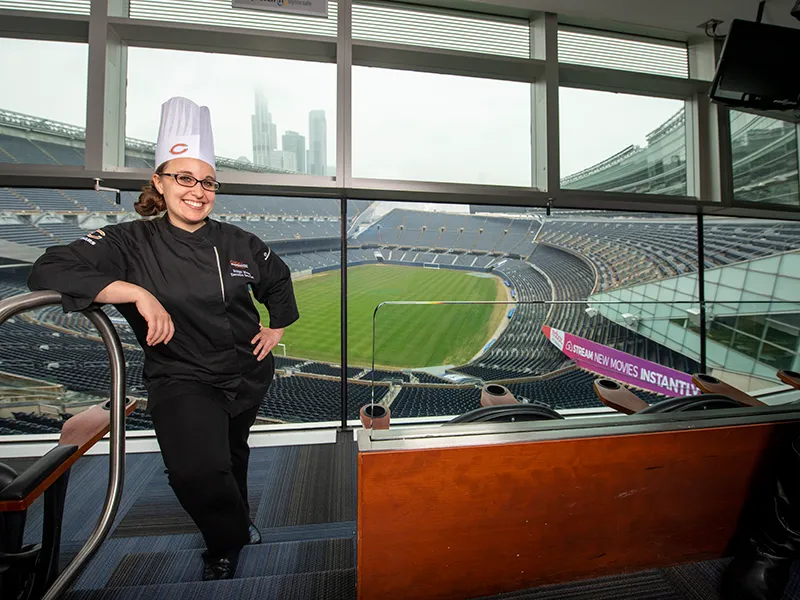 News story previous slide
News story next slide
---
Rising culinary star tackles tough challenges
Chef Bridget Mooney has united people from all over the world through major sporting events such as the Super Bowl, Final Four, Masters Tournament, and the U.S. Open.
"I never imagined I would be working in a stadium," said Mooney. "I am so thrilled I ended up where I did."
Discovering her Passion
Growing up with a single mom and three siblings, Mooney and her sister took over most of the cooking duties. She soon realized cooking was her passion. Mooney's uncle, who graduated from Elgin Community College's culinary arts program, encouraged her to pursue that passion.
"I was very nervous about actually enrolling in a culinary program," Mooney said. "When I came to campus, I discovered a comfortable environment, and I knew I had found a place where I could grow into the chef I wanted to be."
Exploring Opportunities
Mooney went on to graduate from ECC's Culinary Arts & Hospitality Program. She attributes the college with setting her up for success and opening her up to new adventures—including an internship at historic Soldier Field, home to the Chicago Bears, where she now works as an executive sous chef overseeing concessions and premium clubs.
Experience working in ECC's on-campus Spartan Terrace Restaurant and industry field trips with culinary arts professor Patrick Stewart prepared Mooney to excel in the high-pressure environment of the banquet kitchens at Soldier Field.
Remaining Optimistic
Although the food and beverage industry is currently facing extraordinary challenges, Mooney is optimistic the industry will bounce back stronger than ever. She believes the current COVID-19 crisis will unite culinary workers even more.
"We will come back and be stronger than ever," she said. "What is very unique about the virus hitting the food industry is the coming together it has stirred. Whether you work for a restaurant, big venue, or bar, we are a big hospitality family and we do our best to take care of each other."
Want help identifying your passion and exploring career opportunities? Visit elgin.edu/careercoach.