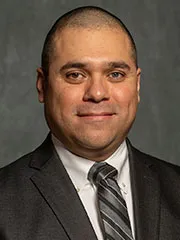 Sergio Rodriguez has an exemplary record of leadership in the military, at work, and in the broader community. He has a long history of service going back to when he was a teenager volunteering at Sherman Hospital and tutoring/mentoring grade school students while in high school. He continued that service in the United States Marine Corps and later through his community involvement.
During his time in the Marine Corps, Sergio reached the rank of Sergeant (E-5) in just over three years, with two meritorious promotions along the way. He was awarded two Navy & Marine Corps Achievement Medals in addition to a Sea Service Deployment Ribbon, a Meritorious Unit Commendation, a Good Conduct Medal, and two Certificates of Appreciation. The latter recognized Sergio's development of a computer network with Internet access for the United Services Organization (USO) in Jacksonville, NC on his personal time.
Sergio began working at KCT Credit Union as a Systems Administrator in November of 2003. KCT is a not-for-profit financial institution that serves a six and half county area in Chicagoland and is dedicated to helping people live better lives financially. Currently, as VP of IT and Marketing, Sergio oversees the Technology and Marketing operations and has led the delivery and integration of technology solutions to provide efficiencies in operations as well as coordinating and directing marketing functions in alignment with the credit union goals and objectives.
Sergio graduated from Elgin Community College, with High Honors, in 2006 and completed his Bachelor's Degree at Northern Illinois University. He serves as the Board President for Centro de Información and is a former member of the City of Elgin's Dr. Martin Luther King, Jr. Celebration Committee and has worked with the Elgin Marine Corps League's Toys for Tots program since 2003. He and his wife, Yesenia, enjoy being new parents to their son, Sebastian.
1316 Shamrock Lane, Pingree Grove, IL 60140
Show email address
Term Expires: April 2029